In an old Edge column, Mr. Biffo commented that he remembers thinking that at a certain point in console history graphics became good enough. Meaning that at whatever point he picked, the release of the 3DO, say, graphical fidelity in games ceased being an issue. Art could be better or worse, of course, but all in all games simply looked good enough.
This era of good enough began for me in 1999 with the release of the Dreamcast. Early 3D looked kind of terrible and even the PS1/Saturn/N64 games with "good" graphics make my eyes bleed today, but Sega's early jump into the 4th generation (that's 4th going by Japanese consoles I care about, starting with the NES/SMS) gave us mature looking 3D that still looks good today.
Compare a good looking PS1 game:
To a good looking Dreamcast game:
Trying to prove my subjective position is correct is less interesting though than the basic concept that to some people graphics become simply good enough at a certain point. Well, at least Mr. Biffo and I think so, but maybe we are crazy.
On a somewhat related note, a friend of mine has good taste in games but abhors old graphics (which means he has bad taste in games). He argues I have a fetish for shitty old graphics and that it's not possible games like Chrono Trigger and Final Fantasy 6 have any value to people who don't masturbate to mode 7 (not that he knows what mode 7 is).
Beyond my friend being an idiot, there is a greater concept at work here. Each of us has a limit to the crudeness of graphics we can cope with. My personal theory is that this limit is tied intimately to our first serious gaming experiences. My friend says he played some Super Mario as a kid but the first game he really got into was GoldenEye for the N64. perhaps this is why he can't tolerate 16 bit graphics.
I grew up with 8 bit consoles but have trouble playing 4 bit games. Atari is just too basic looking. Oddly enough, C64 games, which typically look worse than NES games, don't offend me. And by oddly enough I mean appropriately enough – I grew up playing C64 games.
This looks fine: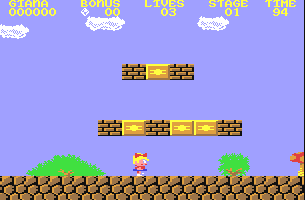 This does not:
These points of graphics being unbearable and graphics being good enough will vary from person to person but I am curious if there are any trends and if my theories pan out. Do you have a console that ushered in the era of good graphics, a point where from then on every game was pleasing to the eye? How primitive do graphics need to get before you can't cope with them and is there any obvious correlation with the games you played as a kid?
Please do our advertising for us: